Help Australians snack better
Help Australians eat more legumes through snacks
Make healthy snacks affordable
According to the latest consumer trends, more and more Australians are snacking throughout the day and there are no signs of it abating.
Unfortunately, the most popular snacks consumed by Australians are rich in calories and poor in nutrients, contributing over 30% of total energy intake! Given these trends, there is an urgent need for healthier snack options.
Australians love biscuits. About half the population consume them regularly. Nutritionists advise Australians to avoid them because they are mostly full of refined sugar and starch, bad fats and are too low in fibre and protein.
In the famous Mediterranean diet renowned for its health giving properties, wholesome biscuits and rusks made with olive oil, orange juice, eggs and wholegrains were often consumed daily, especially for breakfast. There is absolutely no reason why biscuits cannot be healthy and eaten daily.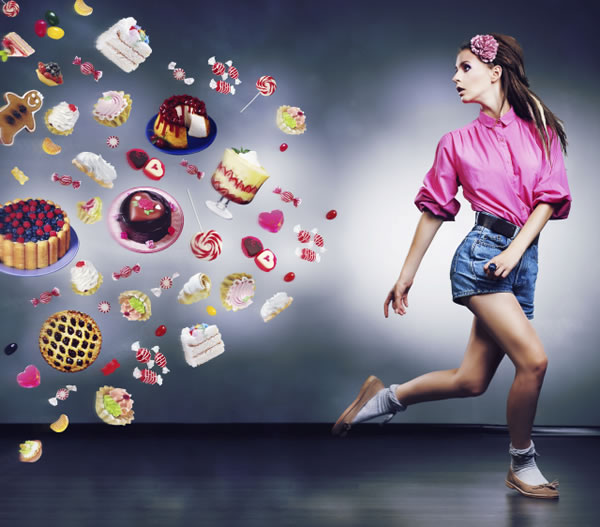 Dr Antigone Kouris
Dr Antigone Kouris, clinical dietitian and nutrition scientist, was very aware of Australia's snacking dilemmas and her patients were constantly asking her to recommend a healthy biscuit to have for a quick breakfast or as a snack with their coffee or tea. She was unable to recommend any biscuits that she was entirely happy with. So in 2008 she was challenged by a patient to develop her own range!
Even though she loves cooking, she is not a baker, but still decided to take on the challenge and experiment in her own kitchen. She asked her extended family members and patients to continually taste-test the differing flavours of biscuits over a period of 2 years! In 2010, the Skinnybik range was officially launched.
Dr Kouris utilized 30 years of nutrition know-how and her research on the Mediterranean diet and legumes (mainly lupins) to develop the Skinnybik low carb bikkie range. Harnessing the superior nutritional and health properties of lupin flour and combining it with other wholefood ingredients, Dr. Kouris brought to the marketplace (and the lucky consumer) low sugar and low carb biscuits that are nutritious enough to eat for breakfast but which taste like a naughty treat. You really couldn't ask for anything else!
Antigone is married with 2 children. Her husband Chris Blazos (a mechanical engineer) is the co-Director and has been instrumental in helping her make Skinnybik a success. Utilising his engineering skills, he has taken care of all the technical issues associated with manufacturing, packaging and distribution over the last 10 years. His unwavering support and belief in the product encouraged her to keep charging ahead despite all the obstacles along the way.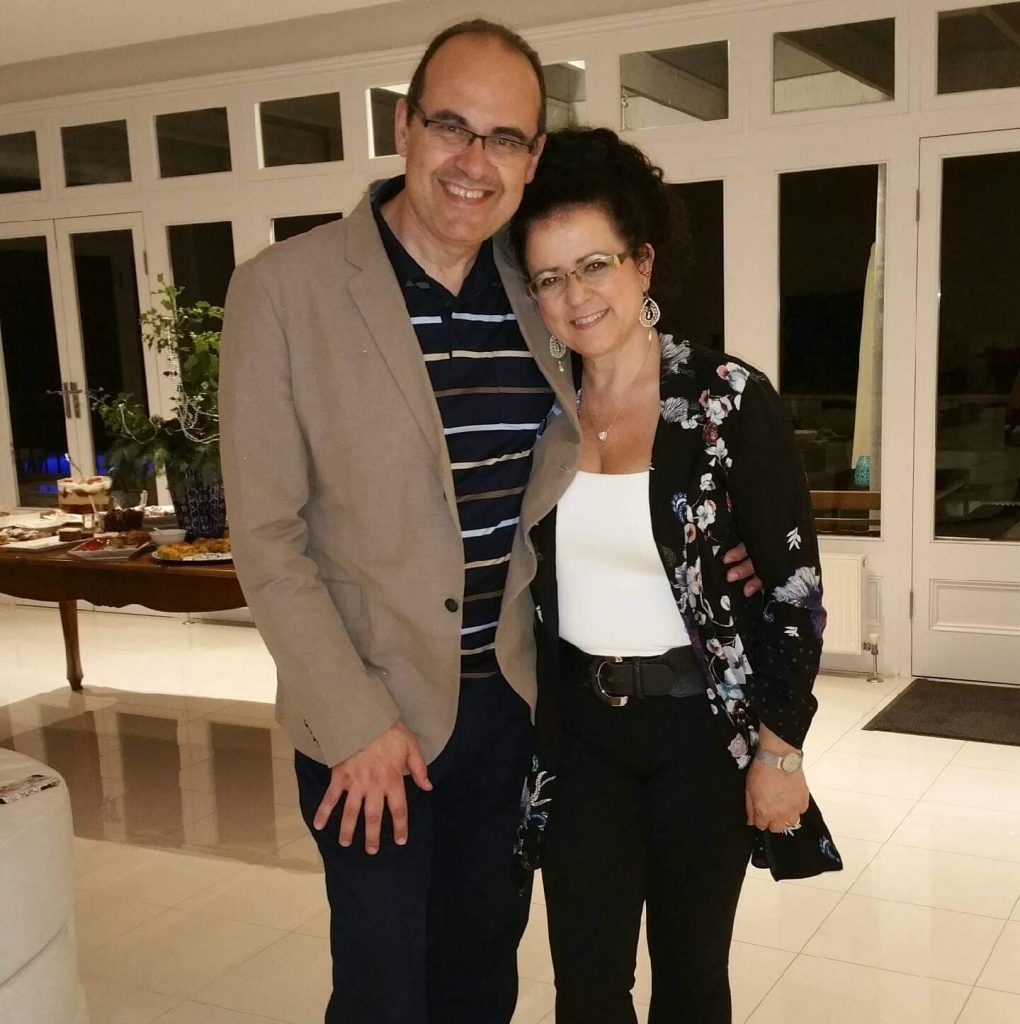 Dr. Kouris with her husband Chris
The overwhelming feedback from her patients over the years is that they reduce hunger, and are a great replacement for other sweet treats to satisfy sugar cravings (but with little impact on blood sugars in her patients with diabetes). In fact, many of her patients on weight loss programs have lost weight whilst eating up to 4 Skinnybik biscuits a day!
The first version was released in 2010 (4.5 health star rating) and the even healthier reformulation (5 health star rating) was released in August 2020.  The new versions CONTAIN GLUTEN because Dr Kouris was keen to use wholegrains (mainly oat bran and a small amount of wholemeal flour) to further improve their nutritional profile and health properties (gluten free flour is highly processed, starchy and nutrient poor). Furthermore, unlike other reduced carb products, Skinnybik do not have laxative sweeteners (like mannitol, sorbitol, xylitol) and therefore do not cause bloating and diarrhoea.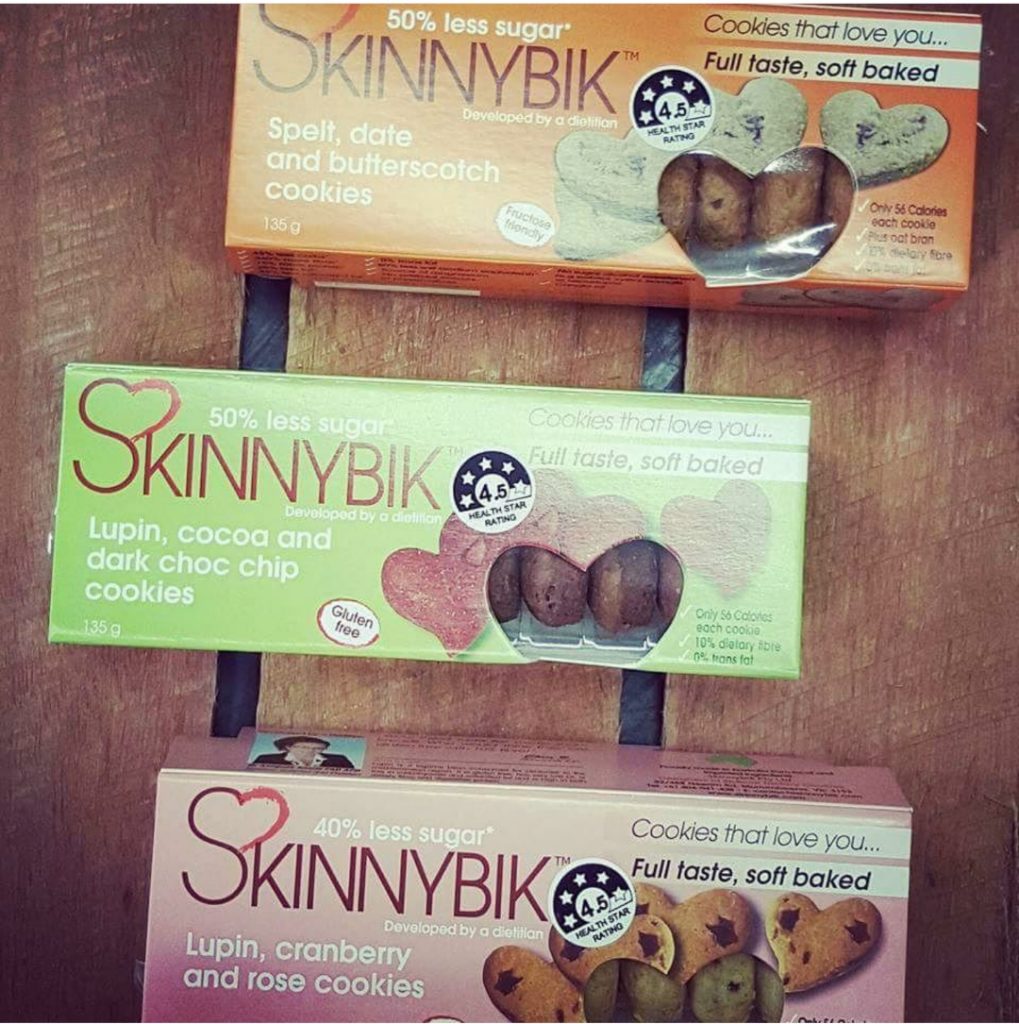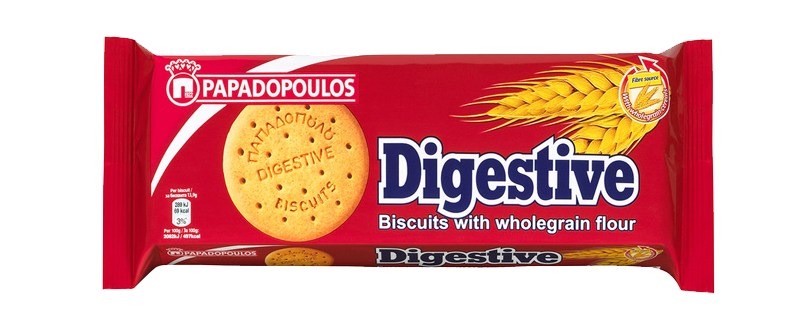 Fun Fact!
The famous Greek Papadopoulos biscuits (exported to 40 countries) originated in Constantinople in the early 1920s by Evangelos Papadopoulos…who was the first cousin of my maternal grandmother Hariklia Christidou-Ioannidou! So yes..biscuits are in my DNA!
Subscribe to our newsletter