Twice weekly, non-consecutive, 800kcal
if you have diabetes consult your doctor/dietitian before starting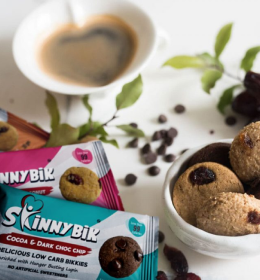 4x Skinnybik (2 packets)
milky tea OR coffee.
150kcal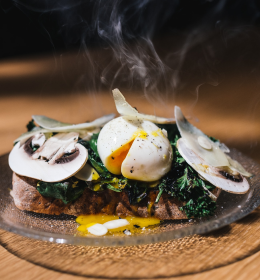 2x poached eggs (oil spray optional)
sautéed spinach
mushrooms
1/2 slice of bread
220 kcal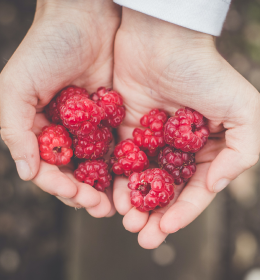 10 berries
2 tablespoons low fat plain yoghurt (chobani)
80 kcal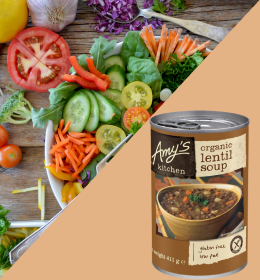 large salad (+vinegar / mustard / herbs, no oil) OR veggie soup
Protein: 90g tuna OR 120g cottage cheese OR 1 cup 4 bean mix OR for soup 1 cup cooked lentils, chickpeas or beans.
250 kcal
It's simple! Follow these two steps
Eat normally
Replace any sugar containing snacks with Skinnybik!
¹Expect to lose 1-2kg a month;
²Skalkos s< Moschonis G, Thomas C, McMillan J, Kouris.A Effect of Lupin-Enriched Biscuits as Substitute Mid-Meal Snacks on Post-Prandial Interstitial Glucose Excursions in Post-Surgical Hospital Patients with Type 2 Diabetes. Nutrients 2020; 12 (5): 1239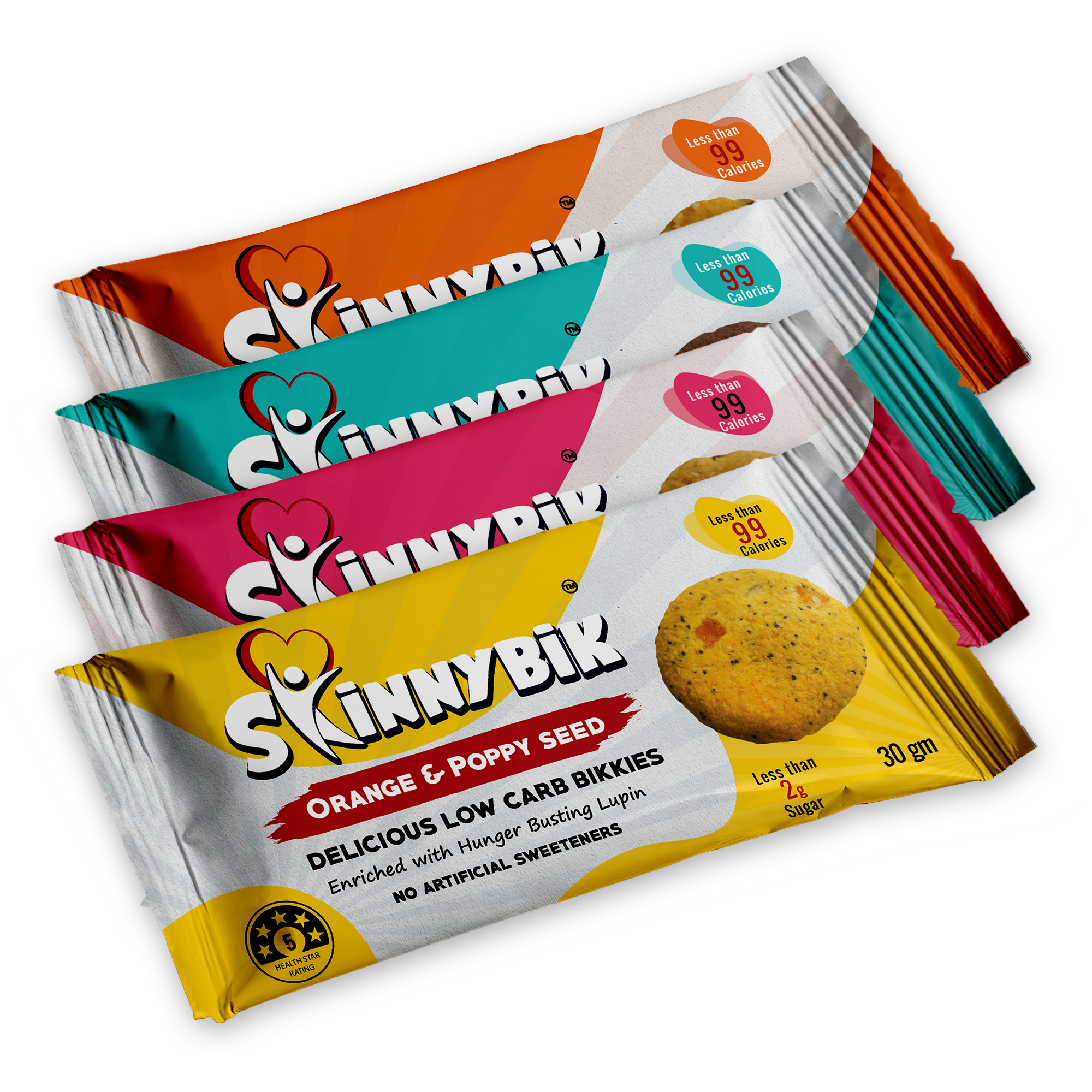 | | | | | | | | | |
| --- | --- | --- | --- | --- | --- | --- | --- | --- |
| | Energy kcal | Protein g | Fat total g | Sat. fat g | Carbs total g | Sugar g | Fibre g | Sodium mg |
| Skinnybik x2 (30g) | 96 | 4.8 | 5 | 1.3 | 4.6 | 1.9 | 5.5 | 60 |
| Optislim cookies x1 (32g)* | 100 | 2.6 | 4.9 | 2.9 | 11.5 | 5.5 | 3.9 | 86 |
| Protein balls x1(35g) | 160 | 7 | 9 | 5 | 12 | 7 | 2 | 60 |
| Breakfast biscuits x2 (30g) | 130 | 2.4 | 4.4 | 0.4 | 20 | 6 | 2 | 118 |
| Oat slice/bakes x1 (35g) | 145 | 2 | 6 | 4 | 17 | 7.6 | 3 | 65 |
| Breakfast wheat-bricks x2 (30g) | 120 | 4 | 0.5 | 0 | 22 | 1 | 3.6 | 96 |
| Digestives x2 (30g) | 137 | 2 | 6 | 3 | 18 | 5 | 1 | 170 |
| Digestives no added sug* x2 (30g) | 135 | 2 | 5 | 0.5 | 15 | 0.2 | 1.7 | 90 |
| Marie biscuits x3 (24g) | 107 | 1.6 | 2.8 | 1.4 | 18 | 5 | 0.7 | 47 |
| Choc Chip biscuits (30g) | 150 | 1.3 | 7 | 5 | 19 | 10 | 0 | 50 |
| Tim Tams (30g) | 156 | 1.3 | 8 | 5 | 19 | 13 | 0.5 | 47 |
Subscribe to our newsletter